News&Topics 2005
The 4th NICT Conference on Research Activities(Nov 30, 2005)
Tsukasa Iwama(Senior Researcher) presented the following results of our research on The 4th NICT Conference on Research Activities.

The 4th NICT Conference on Research Activities(Nov 30, 2005), at My Dome Osaka in Japan
 "Research and Development of the Trusted Time Stamping Techniques"
■Summary
We have developed a high-precision and high-throughput hardware SNTP server using FPGA(field Programmable Gate Array).
We also started to provide time information with Internet reachablity to evaluate it.


■SNTP server
SNTP version:  SNTP ver.4
Speed:  GbE wire-speed
Timestamp accuracy:  8 nanoseconds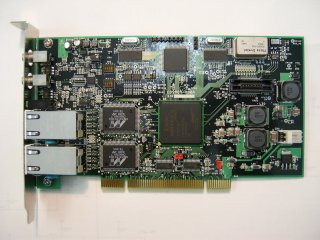 ■Demonstration
Demonstration servers can be accessed with the following IP addresses;

sntp1.nict.go.jp IPv4:133.243.237.141 IPv6:2001:e38:2020::123
sntp2.nict.go.jp IPv4:133.243.237.142 IPv6:2001:e38:2020::124

※These servers use Japan Standard Time as their clock source.


■Publication
Hiroshi Toriyama, Akihiko Machizawa, Tsukasa Iwama, Akihiro Kaneko
"Development of a Hardware SNTP Server"(PDF)
The Institute of Electronics, Information and Communication Engineers (April 22, 2005)(in Japanese)


■Note
This experiment aims to test the performance and function of the newly developed server.
The servers may be interrupted, make incorrect responses, or stop your access to the service at any time without notice.
If you have any questions, please contact us.
The 6th Symposium on Time Business held in the Sankei-plaza of Otemachi ended of popular on Jun. 2, 2005.
The result of research of Time Application Group was exhibited to "Exhibition and demonstration corner" of this symposium.
■Exhibition
●Panel1(PDF)
●Panel2(PDF)
●Panel3(PDF)


■NICT demonstration corner










Contact Us
Please contact us if you have any questions, comments, corrections, or suggestions.